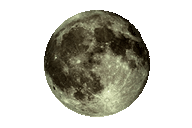 Darren's Astronomy Page!
---
A hobby of mine is astronomy. When ever I take some astrophotos, I'll put the good ones here. At the bottom of this page you'll find links to other places.
---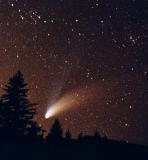 My latest astrophotography attempt. Taken at about 8:30pm April 4th using Konika 3200 ASA print film at about 15 seconds. A standard 50mm lens was used. I scanned the 4x6 inch print using a Microtek ScanMaker E3.

---
The following pictures are taken from a Photo CD I had made up. They have been converted to jpeg for your viewing pleasure.
---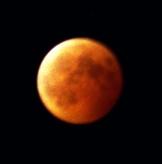 This image was taken September 26, 1996 from Aldergrove Lake. I was using Kodak 400 ASA print film. This is about a 10 second shot.

---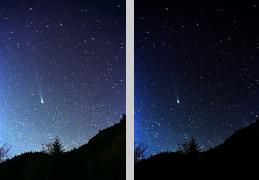 With a great view of the comet of 96' I decided to take a few pictures using my Canon A1 35mm camera.
This is one of the best images I took of the Hyakutake comet. It was taken from the side of a highway halfway between Vancouver and Whistler ski resort at about 12:30 AM March 27, 1996. The image on the right has had some processing done. I used a 24mm lens and Fuji 1600 ASA film. The shutter was left open for 3'40". Click on the image for a larger side by side view.

Click here for a larger NON processed image - 512 x 768 (268k). This image is as the software read it in and saved it as a jpeg. I had the image reprocessed to gain some extra data out of the negative. The original image was a bit green and brighter. This one is close to the original print I received from the first lab. This time I gave the Photo-CD lab copies of the images I wished to have fixed. I good lesson learned.
Another larger image - 512 x 768 (62k) a bit different from above.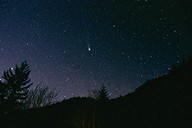 Some people prefer this horizontal wide angle image. Seems the extra tree line gives them more of a connection between the earth and the sky.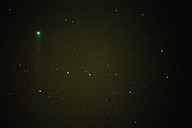 Then of course I had to get a shot of Hyakutake passing the big dipper. If you know why the center of the picture is brighter please drop me an e-mail explaining it. I'd like to do better next time out. I think it had something to do with the moon being out and reflection within the lens system.

---
This is an image of the moon lighting up Spanish Banks beach in Vancouver. Notice the golden colour to the tall grass on the center left of the image. In the background are stars!

---